How Much Does a Barber Chair Cost?
With the recent increased interest from Barbers in owning Classic Old School Barber Chairs, the type of chairs a Barbershops uses has become more and more important. Even if you aren't able to locate classic chairs for your barbershop the type of chair you choose says a lot about your business. If you are looking into getting a barber chair for your shop, it is helpful to know more about how much they cost and which chairs would be best for perfecting your craft.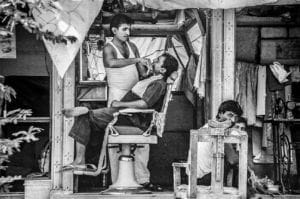 Different Types of Chairs
The first thing you should know is that there are different types of chairs you can get. There are old school chairs, cheap or used barber chairs, and new chairs. Depending on which type you choose to use, it is going to say a lot about your craft and the way you do your job. Think about this before you purchase any type of barber chair for your salon.
Old School Chairs
If you are looking into getting chairs for your barbershop, you may want to look into getting old school chairs. These chairs have a lot of personality and they can look very unique. There are many different kinds of old school chairs. You will first want to make sure the old school chair is in working condition. The cost for these chairs may run you anywhere between $1,500 to $6,000 each. Some of the brands of old school chairs you can get are Koken, Kochs, Emil J, and others, too. Each one of these manufacturers or dealers will have a variety of chairs you can choose from.
The great thing about old school chairs is they are classic, sturdy, and durable. However, if something breaks on them, the parts can be quite difficult to find. Think about these things before you purchase any old school chairs. This isn't to say you shouldn't purchase these chairs. You just need to make sure you know what you are getting into when purchasing these chairs.
Newer Barber Chairs
You can also get newer barber chairs for your salon, as well. You can get these chairs from trusted chair manufacturers and dealers such as Belvedere Maletti, Mr. Beauty Equipment, and Minerva. Each one of these manufacturers and dealers will have different styles, colors, and chair features for you to look through. You can also get newer barber chairs from other places online. However, you should always make sure you avoid foreign dealers. If the chair from a foreign dealer breaks, it would be nearly impossible to have fixed or replaced.
You should be aware that newer barber chairs are less expensive than old school chairs, generally ranging around $500 to $1800+. However, some of them are poorly made like barber chairs from foreign dealers. Make sure if you are going to get some of the newer barber chair models that you get ones of high quality.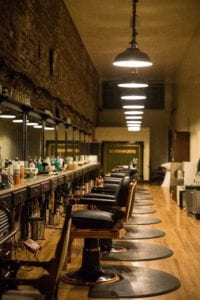 Low End or Used Barber Chairs
Lastly, you can get low end, cheap, or used barber chairs. You can find these on a wide range of websites or from other salons that may be getting rid of their old barber chairs. These will generally cost you between $200 to $400. With that being said, you should know that the cheaper chairs will need to be replaced or repaired more often and they may break easier than higher end barber chairs, as well.
Making the Ultimate Decision
Deciding which barber chairs you are going to get can be a tough choice. You want to make sure the chairs you are getting display your personality and the dedication to the work that you do. As you have read, there are many different choices when it comes to barber chairs. You need to take the time to look through the different manufacturers and chair dealers to get the chairs that will work best for your business.
Maintaining and Cleaning Your Barber Chairs
No matter which barber chairs you choose to get, you are going to need to make sure you are properly maintaining and cleaning them. Depending on the chairs that you have in your salon, the maintenance may be different. However, you will always need to make sure you use the proper cleaners to take care of your chairs. The cleaners that may need to be used will vary depending on the material that your chairs are made of. Make sure you pay close attention to this before you use any cleaners on your barber chairs.
Do you own a salon? Are you looking into getting new barber chairs? This is a choice that you need to think through before acting upon. You should always make sure that your clients know how dedicated you are to your work. The chairs that you use in your salon say a lot about you and the work that you do. You can get old school chairs, newer barber chairs, or used chairs. You have options available to you. Make sure you think through these options before you decide on which barber chairs you are going to get.