It's an undeniable fact that massage chairs get dirty. Tea or coffee can get spilled, crumbs can be trapped inside, your pets can walk all over it and dust can accumulate. The good news is, cleaning these robotic massage chairs is easy.
You only need a little time and some great cleaning products. Keep reading to learn how to clean your massage chair with the best cleaners. 
Determine the sofa fabric
Massage chairs are made of different materials. You can get some chairs with fabric upholstery while others have leather upholstery.  If you are not sure of the make of your massage chair, read its tag. 
These tags usually contain instructions on what cleaning products you should use on the fabric. 
-If you find your massage chair with tag X, brush or vacuum alone. 
-If you see W, use a detergent that is water-based with a steam vacuum. 
-O stands for organic hence clean with cold water
-For S, use only a dry-cleaning detergent
Vacuuming
Keep in mind all massage chairs gather dust.  If your chair has never been cleaned, you will be surprised at how much dust there is on the cover. 
Take a small vacuum cleaner and vacuum all the dust. Start from up and finish with the bottom of the chair. 
Massage chair with fabric upholstery needs through vacuuming. Fabric can take some time to clean since it absorbs and retains dust. 
You should do this at least every two weeks. If dust does not accumulate a lot, you don't have to spend as much time cleaning it. Use an upholstery cleaning spray at least once a week to protect your massage chair from dust and other debris.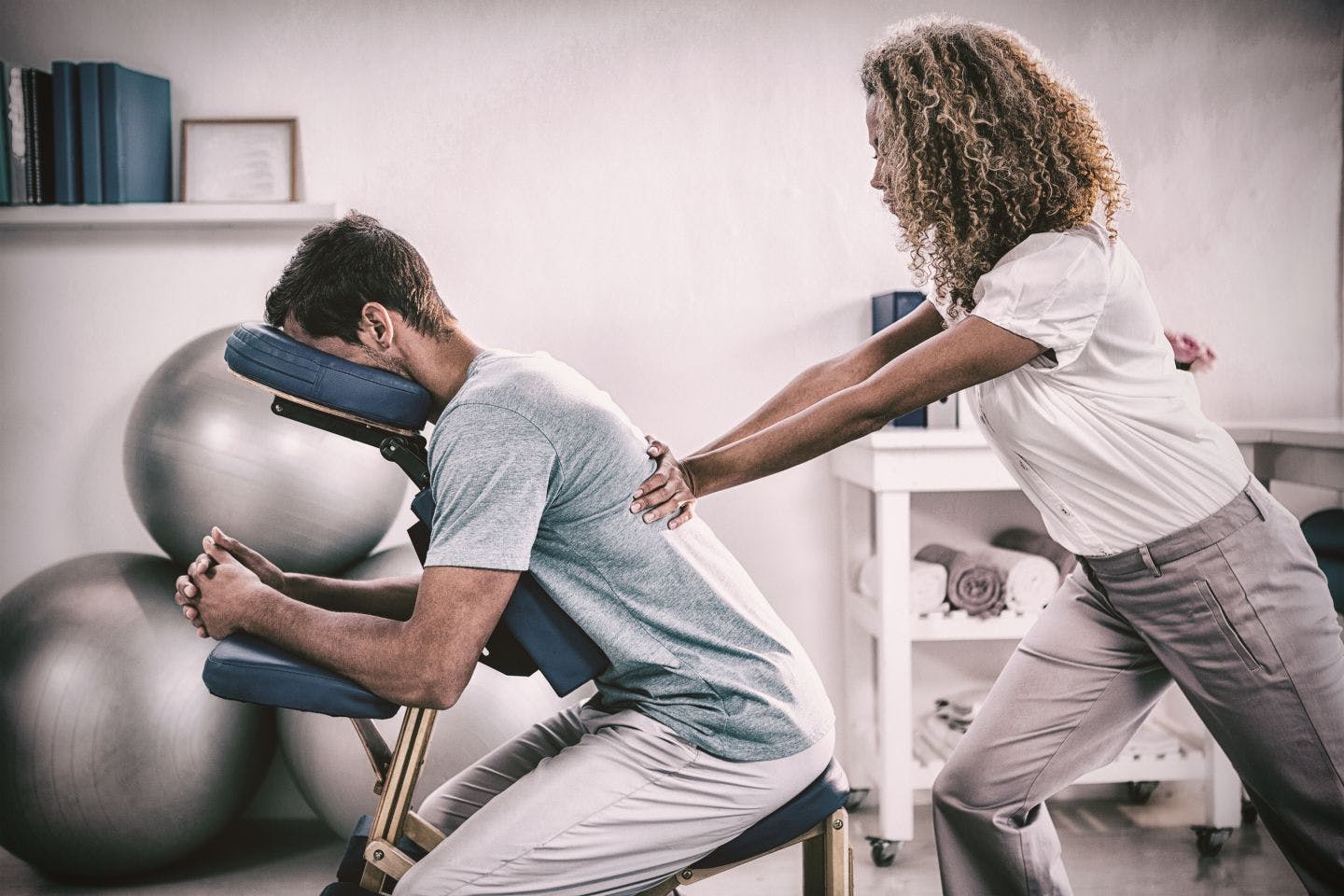 Remove the stains with a Salon & Barber Furniture Cleaner Spray
Now that you're done vacuuming your massage chair, the second part is removing stains. Clean each stain with a chair cleaner and a suitable cloth for it.
Spray on the dirty areas of your chair. Then dab the moistened areas with a clean cloth to remove dirt and stains from the fabric. Repeat the process until the dirty areas look clean and there are no stains on the fabric.
High-quality salon chair cleaner removes stubborn stains. Don't forget to take care of the armrests. Use the cleaner spray if the armrests have stains. 
Common Stains
Accidents happen – dye may transfer from blue jeans to your chairs, color and coffee may spill on your massage chair.
I would recommend that you clean the stain immediately and follow cleaning & care instructions on your cleaning spray. Use always high-quality massage chair cleaners to effectively remove stains on all upholstery. 
Best Massage Chair Cleaners
While shopping for wholesale massage supplies lookout for Salon Chair Cleaner from The Salon Chair Guys,  it is safe to use since they are non-toxic and eco-friendly. They break up oil and dirt quickly and leave your chairs looking just like new. 
Unlike many all-purpose cleaners that damage salon furniture with their chemicals, some cleaners are all-natural and will remove stains and dirt without discoloring or harming your massage chair.
They are residue-free, odorless and are designed with a user-friendly spray bottle. 
Others will protect your massage chair from stains that dry and damage the fabric. This will keep your massage chair for a long time plus maintain its shining look. 
Instructions for use 
For everyday use to keep the upholstery shiny and brand new, spray the chair with a cleaner on its surface and wipe it with a sponge or damp cloth. 
For heavy dirt; spray and leave for 1 minute, then wipe with a scrubbing sponge.